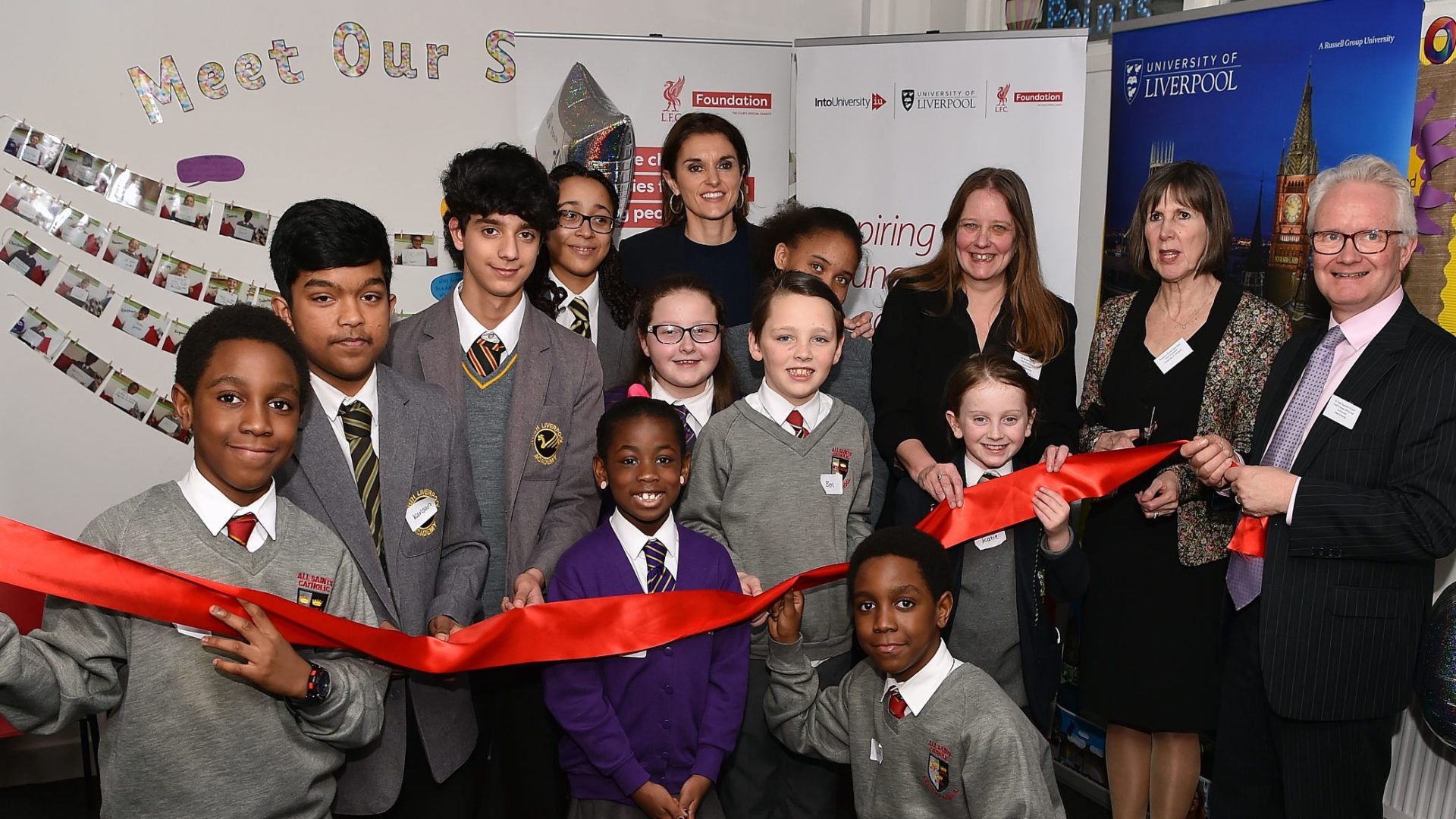 Partnership launches to help youth in Anfield
A new learning centre which will support children and young people in North Liverpool to improve their educational attainment was officially launched on 20 February 2018.
The IntoUniversity North Liverpool centre in Anfield is a new education project run by IntoUniversity in partnership with the University of Liverpool and LFC Foundation.
This is the first time IntoUniversity has worked jointly with a university and a Premier League football club. The project will engage and inspire young people using the badge and reach of Liverpool Football Club, through its official charity the LFC Foundation.
To mark the launch a special ribbon cutting ceremony involving representatives from the partnership, local students, teachers, parents and Liverpool Football Club's goalkeeper Simon Mignolet took place at the centre.
Building on existing programmes of outreach projects the centre will work with up to 1,000 children and young people in Anfield and the surrounding areas of Liverpool each year, to make the best of their talents and improve their chances of gaining a university place.
Based at the Anfield Business Centre, Breckfield Road South, the centre is already working with four primary schools and two secondary schools in the area and has seen dozens of families sign their children up to receive after-school support, access to university-student mentors, workshops and direct experience of university life.
In parts of North Liverpool where the centre operates, the higher education progression rate is as low as 17.5%, less than half the national average (37%). In the Anfield ward, youth unemployment (16-24) is currently at 8.5% compared to 2.8% nationally.
Professor Dame Janet Beer, Vice-Chancellor, University of Liverpool, said: "At the University of Liverpool we firmly believe that anyone with the talent to pursue study in higher education should be given the opportunity and encouragement to do so. We understand that some students may face additional barriers in accessing higher education which is why we have partnered with IntoUniversity and LFC Foundation to develop this initiative, which has the potential to deliver life-changing impact.
"With the help of our students, staff and partners, we will continue to provide academic support and inspiration for school students in the heart of our community."
Dr Rachel Carr OBE, Chief Executive and Co-Founder at IntoUniversity, said: "We are delighted to have opened our first centre in Liverpool thanks to the backing of the University of Liverpool and the LFC Foundation.
"Working in close partnership with local schools and community groups, we will deliver a long-term programme of support that starts early, ensuring that young people in North Liverpool are able to achieve their aspirations.
"We are excited to see this new partnership develop in the years to come."
Andrea Cooper, Head of LFC Foundation, added: "We are thrilled to officially launch this exciting partnership as it wholly supports our mission of creating life changing opportunities for young people. We know that many young people are passionate about Liverpool Football Club, and we hope that the LFC badge will enhance this project to inspire local youngsters to reach their potential. We are delighted to be working with one of the country's leading universities and educational charity to deliver this project.
"We are committed to ongoing fundraising for this initiative, which will span the next five years. Our target is to raise £300,000 over that period through the amazing support of the LFC family. Fans who supported our Legends Charity Match and other fundraising events last year have helped us to reach a significant proportion of that target. We know that supporting children and young people as well as the local community is really important to our fans so we are delighted to be a part of the new North Liverpool centre in Anfield."
The LFC Foundation is donating 125 tickets to the IntoUniversity North Liverpool centre for its young users to enjoy their upcoming Legends Charity Match at Anfield. The game, which will see the LFC Legends take on the Legends of Bayern Munich, will take place on Saturday 24th March in aid of the LFC Foundation.